FIGHTING FOR CLIENTS IN PALM BEACH, MARTIN & OKEECHOBEE COUNTIES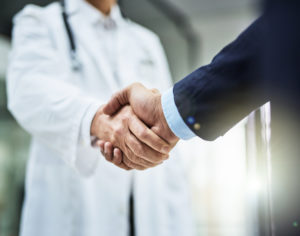 At Herman Law, P.A., our criminal defense firm draws upon years of experience to achieve the best possible result for every single one of our clients. If you have been charged with a criminal offense such as patient brokering, you need skilled legal defense right away. We treat you as a top priority, and devote extensive resources to your case. You can rest easy knowing that your case is handled by a devoted advocate.
FLORIDA PATIENT BROKERING ACT
The Florida Patient Brokering Act was passed after it was brought to the Florida Legislature's attention that numerous mental health and substance abuse hospitals made payments or various forms of remuneration to individuals who referred patients with insurance coverage to their facilities. Those who referred the patients would receive a sort of kickback, or commission, on these referrals.
The Florida Patient Brokering Act established that it is a crime for anyone, including health care facilities and professionals, to receive these kickbacks for referrals or patronage to or from a healthcare provider. With that in mind, if you are suspected of being in violation of the Florida Patient Brokering Act, you must contact an experienced criminal defense attorney who knows the law inside and out.
Our team of skilled attorneys can thoroughly evaluate the specifics of your case and fight for the best possible outcome on your behalf.
WHAT IS CONSIDERED AN ILLEGAL KICKBACK?
•Concert or Sports Event Tickets
•Gift Certificates
•Gym Memberships
•Clothing
•Rent/Rent Subsidies
•Plane Tickets
•Cigarettes
This list is not entirely comprehensive; however, anything given in exchange for referring patients is generally considered patient brokering.
While taking a concert ticket or a gift certificate in exchange for a referral might be allowed in many lines of work, the law is entirely different when it comes to healthcare facilities and professionals. Even if you did something that felt completely normal, or you didn't know what you did was even illegal, you need to consult a professional immediately if you are suspected of receiving or distributing an illegal kickback. If you would like to learn more about the recent updates in the Patient Brokering Act, the Florida State Legislature updates their site with the most recent legislative changes:
One of the traps many fall into when they are suspected of a crime is not hiring a lawyer because it makes them "look guilty." This is especially true when it comes to patient brokering clients, as they often don't even know they did something illegal, so they let everything spiral by trying to ignore what is happening around them. Even more importantly, as the state of Florida cracks down on patient brokering, there are bound to be some innocent people charged in their efforts to break down the patient brokering going on in their state. We are here to fight for you every step of the way.
If you contact Herman Law, P.A. today, we will get started on your case immediately, and carve out your best path to success even in your most trying times. We have years of experience representing patient brokering clients in the West Palm Beach area, so you can rest assured that you are getting the best representation possible.
RESOURCES
If you would like to read into the most recent updates of the Patient Brokering Act, we suggest that you visit the Florida State Legislature website: http://www.leg.state.fl.us/Statutes/index.cfm?App_mode=Display_Statute&URL=0800-0899/0817/Sections/0817.505.html
WHY CHOOSE HERMAN LAW, P.A.?
•24/7 Availability
•10.0 Superb Avvo Rating
•Florida Super Lawyers® Rising Stars Selection
•Direct Attorney Involvement
•Featured on Channel 5, Fox News, and in the Palm Beach Post
Our West Palm Beach criminal defense attorney can help you determine you best legal options today. Fill out our form or give us a call to get started on your case today.
CONTACT A PATIENT BROKERING LAWYER IN WEST PALM BEACH 24/7!
Due to the current crackdown on patient brokering in Florida, many individuals or organizations may face charges that are inaccurate, misinformed, or entirely false in the task force's race to make a big impact in the patient brokering industry. If you have been charged with patient brokering, get experienced legal guidance immediately. Our skilled attorney has obtained an AV Preeminent® Rating by Martindale-Hubbell® and has handled more than 150 jury trials. Our firm is passionate about upholding our clients' rights and fighting for a secure future.