West Palm Beach Identity Theft Attorneys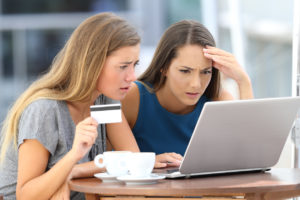 Given the technological advances ushered in by the internet, and the use of online banking, social media and smartphones, identity theft has become a serious threat to Floridians. In fact, it is one of the most frequently prosecuted economic crimes in the state, and anyone charged with identity theft faces potentially harsh penalties, including fines and imprisonment.
Herman Law, P.A. is the leading white collar crime defense law firm in the South Florida area. We have a proven track record of providing our clients with aggressive, successful defense strategies. If you have been accused of identity theft, we will offer you legal knowledge and skill and work to protect your freedom and your rights.
Florida Identity Theft Crimes
There are a number of identity theft crimes in the state, such as:
False Impersonation -This occurs when someone falsely presents himself or herself as another person, or impersonates another, to obtain money or property for a financial benefit. False impersonation is considered larceny, with charges ranging from a second-degree misdemeanor to a first-degree felony, depending on the value or type of property taken.
Criminal Use of Personal Identification Information – This crime involves the fraudulent use, or possession with intent to commit fraud, of another's personal identifying information without the consent of the owner, to obtain money, property or some other benefit. This information includes a person's name, address, phone number, date of birth, social security number, driver's license number or any other identifying information.
Generally, the criminal use of personal identification is a third-degree felony. If the value of the property taken is greater than $5,000 or the identity theft involves 10 to 19 victims, however, it is charged as a second-degree felony. If the crime involves 20 or more victims or a monetary gain of $50,000 or more, it is a first-degree felony.
Criminal Use of Personal Information to Harass – This occurs when someone uses another's personal identifying information without permission in an attempt to harass that person. This crime is charged as a first-degree misdemeanor.
Use of a Minor's Personal Identification Information – The knowing or fraudulent use of minor's personal information (someone younger than 18 years old) without the minor's permission, or the permission of his or her parent or legal guardian, is a second-degree felony. It is also unlawful for a parent or guardian to fraudulently use a child's personal identifying information without his or her permission.
Use or Possession of a Deceased Person's Personal Identification Information – It is illegal to fraudulently use, or possess with intent to use, the personal identification information of a deceased person. This is generally considered a third-degree felony. However, if the information of multiple deceased individuals is used and large amounts of money are involved, charges can be elevated to second or first-degree felonies and mandatory minimum sentencing guidelines may apply.
Counterfeit of Fictitious Personal Identification Information – The use, or possession with intent to use, of fictitious or counterfeit personal identification information for the purpose of committing fraud is a crime. Generally charged as a third-degree felony, but this crime can also be charged as second-degree, first-degree, or life felonies,  depending on the circumstances.
Penalties for Identity Theft in South Florida
Identity theft is a serious crime in Florida that can lead charges ranging from second-degree misdemeanors to first-degree felonies and also result in significant penalties including:
Prison – Sentences depend on the degree of the charge. For example, a conviction of a second degree misdemeanor may lead to a sentence of up to 60 days in jail, while a misdemeanor in the second degree may result in a jail sentence of up to a year in jail. On the other hand, felony convictions can lead to incarceration in a state prison from 5 to 30 years.
Fines– A misdemeanor conviction can result in a fine of up to $1000, while felony convictions can result in fines ranging from $5,000 to $15,000.
Restitution -Intended to compensate the injured party for the losses he or she suffered.
Probation – Sentences require meeting specific court requirements such as regularly reporting to a probation officer, submitting to random drug testing, and refraining from committing other criminal offenses.
South Florida Identity Theft Defense Attorney
Herman Law, P.A. has extensive experience defending clients against identity theft charges. These crimes are taken very seriously by state prosecutors, and a conviction can lead to harsh penalties. Our highly skilled criminal defense attorneys will help you understand your rights and devise an aggressive defense strategy to secure your freedom. Because the government has unlimited resources at its disposal, it is crucial to have an experienced white collar criminal defense attorney in your corner. Call our office or fill out a contact form today for a free consultation.
Herman Law, P.A. serves clients in Ft, Lauderdale, West Palm Beach, Martin, Okeechobee and Palm Beach Counties and throughout South Florida