Weapons Offenses in Palm Beach County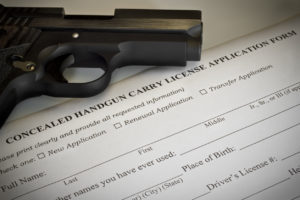 In Florida and across the nation, firearms and weapons as a whole are heavily regulated. If you have been accused of committing a weapons offense, you could be facing harsh repercussions including fines and imprisonment. At Herman Law, P.A., we represent individuals who have been accused of violating any one or more of Florida's numerous weapons statutes.
Whether you are being accused of unlawfully carrying a concealed weapon, or threatening to discharge a destructive device, we will zealously defend you to the fullest extent of our abilities.
Why hire Attorney Ron D. Herman?
Former prosecutor
Over 15 years' experience
Direct attorney involvement, your case will not be handed off to a paralegal
Numerous professional accolades, including the AV® Rating from Martindale-Hubbell®
Weapons & Firearms Offenses
In Florida, there are a multitude of weapons and firearm offenses under Chapter 790 of the Florida Statutes. So many in fact, that it is understandable why someone could unintentionally commit a weapons crime and not even be aware of it.
To illustrate, under Section 790.10, any person who carries a sword, firearm, or other weapon in the presence of another person and exhibits the weapon in a rude, careless, angry or threatening manner shall be guilty of a misdemeanor of the first degree, punishable by up to 1 year in jail and up to $1,000 in fines.
Other examples of weapons offenses include:
Carrying a concealed weapon
Open carrying of weapons
Manufacturing or selling a slingshot
Discharging firearms in public or on residential property
Using a firearm while under the influence of alcohol
Discharging machine guns
Planting a "hoax" bomb
Possession of a short-barreled rifle
Protect Your Future & Engage Herman Law, P.A.
At Herman Law, P.A., we understand that Florida's weapons laws can be harsh, especially on average citizens who are not aware that a crime was committed. Whether this is your first brush with the law, or if you are being accused of using a weapon during the commission of a crime, you need the best defense you can find.
Attorney Herman is a reputable West Palm Beach criminal defense attorney and former prosecutor. Regardless of the nature of your charges, we will work vigorously to achieve a favorable case result so you can put this matter behind you as soon as possible. Contact our firm today to meet with Attorney Herman in a free consultation – we are on your side!