West Palm Beach Gun Rights Attorneys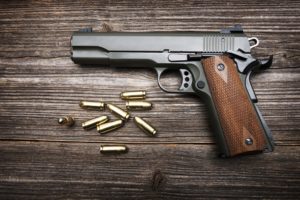 In its landmark decision District of Columbia v. Heller (2008), the U.S. Supreme Court affirmed that the Second Amendment of the U.S. Constitution protects an individual's right to bear arms — a right that is also spelled out in the Florida state constitution. Even though there is a storied history of gun rights advocacy in the state, gun laws are strictly enforced. Moreover, recent mass shootings in Florida have led to the enactment of new gun control measures. Now, more than ever, it is crucial to understand your rights as a gun owner as well as the penalties for gun violations.
Herman Law, P.A. is a premier criminal defense law firm serving clients in Ft. Lauderdale, West Palm Beach and throughout South Florida. Well-versed in the applicable state and federal gun laws, we have a proven track record of successfully trying gun violation cases. Our legal team is dedicated to protecting the rights of our gun-owner clients.
Florida Gun Rights
Gun rights in Florida are based on the Second Amendment, and the relevant provision of the state constitution states "the right of the people to keep and bear arms in their own defense shall not be infringed, except that the manner may be regulated."
As such, state law requires a permit to carry a handgun (but not a rifle or shotgun). While there is no specific gun registration requirement, gun sellers must keep sale records and make them available for inspection by state authorities. In addition, certain individuals are not permitted to own or possess firearms, including:
Minors under the age of 21
Convicted felons (until their civil rights are restored)
Individuals under a domestic violence court order
Those who have been committed to a treatment facility for drug abuse, convicted of certain related crimes, or are committed to a mental institution, within the past three years
Chronic drug and alcohol abusers
Because gun possession violations in Florida carry stiff penalties, including significant jail time and fines, it is crucial to have an aggressive criminal defense attorney in your corner.
Carrying a Concealed Firearm
It is unlawful to carry a concealed firearm in Florida without a permit. A violation is considered a third-degree felony, punishable by up to five years in prison and $5,000 in fines, or both. In order to obtain a concealed carry permit, applicants must be:
At least 21 years-old
U.S. citizens or permanent resident aliens
Eligible to possess a gun under both state and federal law
In addition, the permit only applies to handguns, and the sole purpose of carrying the weapon must be for self-defense. Additionally, all applicants must pay a license fee, submit fingerprints and prove that they are competent in handling a firearm. It is important to note that there are numerous places and situations in which concealed firearms are prohibited such as police stations, courthouses, public agency meetings, schools, or any other location where firearms are prohibited by state or federal law.
What are the new gun restrictions in Florida?
In March 2018, Governor Rick Scott signed new gun control measures into law — the Marjory Stoneman Douglas High School Public Safety Act. The law contains enhanced restrictions on gun possession in the the state of Florida, including:
Minimum age — The law changed the minimum age for all gun purchases to 21 from 18
Waiting period — Prospective gun buyers must wait three days, or until a background check is completed, whichever is longer, before obtaining a weapon
A Ban on Bump Stocks — These devices are designed to enable semi-automatic rifles fire more rapidly, mimicking an automatic weapon (which are banned by federal law)
The law creates a controversial "marshal program" that allows school superintendents and sheriffs to arm and train certain employees — coaches, counselors and librarians, but not classroom teachers. The measure also contains funding for school security by making school grounds more secure and hiring additional school-based police officers.
Florida Gun Rights Attorney
If you are facing a weapons charge in Florida involving a firearm, it is important to know your rights. At Herman Law, P.A., we leverage our knowledge of the applicable weapons laws to defend our clients in state and federal court. Call our office or complete the online contact form to set up a free consultation.
Herman Law, P.A. serves clients in Ft, Lauderdale, West Palm Beach, Martin, Okeechobee and Palm Beach Counties and throughout South Florida